Once a month, kindergartners at Wheaton's Carl Sandburg Elementary are greeted by a special group of visitors. Residents at Wyndemere, a senior living community in Wheaton, have partnered with kindergarten teacher Alison Sylwestrak to come in and read to the eager kiddos.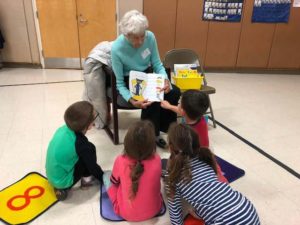 "The kids love it when we visit," said resident volunteer Peg Sindelar. "Getting to interact with them brings me pure joy. They're just so eager and excited to talk to us and I couldn't be happier that we can bring that excitement."
The students read to the residents. The residents read to the students. They share stories and ask one another questions. Every month, Sylwestrak's students are overwhelmed with excitement for the group's visit.
"The students are engaged and attentive," said Sylwestrak. "I asked the students what they enjoy most about this special story time. One of my students commented, 'I know you say we're all good readers, but THEY are REALLY good readers!' "
The benefits of volunteerism for seniors have been widely documented and include increased social connections and fewer symptoms of depression.
"We're a big family at Wyndemere, much like a group of students," Peg noted. "We learn together, play together, and have formed friendships that can't be broken."
https://www.chicagotribune.com/suburbs/wheaton/community/chi-ugc-article-as-april-honors-volunteers-wheaton-seniors-s-2019-04-12-story.html